Cosmos Sport Giftcards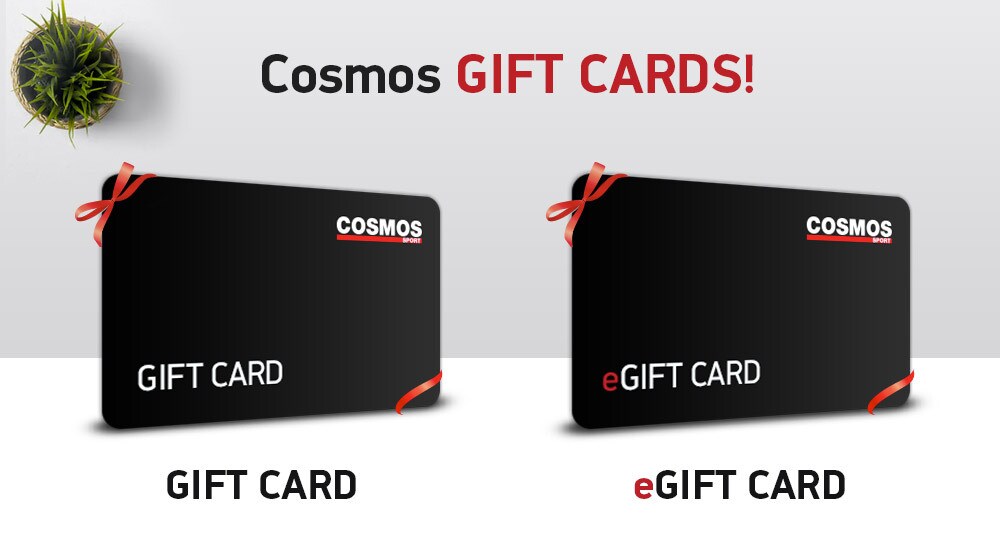 Frequently Asked Questions:
eGift CARD Cosmos Sport
-How could I buy an Electronic Gift Card?
You can buy an Electronic Gift Card, with three simple steps online at www.cosmossport.cy and in our stores.


-What is the minimum and maximum purchase amount for the Online Gift Card?
You can choose an Electronic Gift Card from €15 to €300.


-What is the expiration date of the Electronic Gift Card?
An Electronic Gift Card has a validity period of 12 months from the date of purchase.


-How an Electronic Gift Card is been sent?
An Electronic Gift Card is sent instantly as soon as you complete the order, by email or sms to the recipient.


-What is an Electronic Gift Card?
You cannot exchange the Electronic Gift Card for money. You could use it exclusively for the purchase of products from cosmossport.cy or by phone order at 22 594000 or at any Cosmos Sport Store.


-Is it possible to apply an Online Gift Card over and above a discount product?
You can use an Electronic Gift Card in combination with any other discount or promotion on cosmossport.cy at the time of purchase.


-How do I know that an Online Gift Card has been sent to the recipient after purchase?
You will receive a confirmation email immediately after purchasing an Electronic Gift Card.


-The Electronic Gift Card does not work, who do I contact?
If you are having problems with the redemption of an Online Gift Card, first check the number you have entered and try again. If you experience the same problem, send an email to Customer Support or call us at 22 594000.


-Can I return an Electronic Gift Card?
The Online Gift Card cannot be returned, you can use the Electronic Gift Card to buy products with a value equal to or greater than the amount indicated on the Gift Card.


-My Electronic Gift Card was stolen, deleted or sent to a wrong email; how could I replace it?
We cannot replace the Electronic Gift Card in the above cases.



Cosmos Sport Giftcard

We've all found ourselves in the position of giving a present to a loved one, but sometimes we can't think of anything or we prefer to let them choose for themselves what they most want! With the Cosmos Sport Giftcard we offer our loved one the choice of picking their favorite sneaker or athletic shoes, t-shirt or jacket, gym accessory or sportswear, from our huge collection of brands such as ΝIKE, adidas, Reebok, Vans, Puma, New Balance, Under Armour, Tommy Hilfiger, Timberland, TOMS, Champion, Emerson, Body Talk and many more.

You have 3 choices:


- How can I get one;
You can get one easily from a Cosmos Sport store. Find all our stores here!


- On what and how can it be redeemed?
The recipient can redeem it on all products and brands on our store, during the validdity period of the gift card, with no limitations!


- What is the validity period of the gift card?
The validity period of the Cosmos Sport gift card is 12 months from the date of purchase, so there is certainly time for the perfect present to be found!


- Can I return the gift card and receive the same amount in cash?
Gift cards cannot be returned! But we are certain if you visit one of our Sneaker10 stores, you'll find what suits you best in our huge collection of Sports & Casual Brands!


If you would like further information or answers to any of your questions regarding the
Cosmos Sport gift card click here.